SkinCeuticals product line is here to provide advanced skin care backed by science. This clinical skin care is used by dermatologists, plastic surgeons and medi spas. It contains high potency formulas that concentrate antioxidants, and pure actives to penetrate into the skin. It is formulated to correct signs of aging, protect healthy skin, and prevent future damage. The skin is the largest organ and one of the most important. SkinCeuticals prides themselves on the efficiency of understanding the various skin types and skin concerns to ensure the best results.
SkinCeuticals Gentle Cleanser Cream
This cleanser works for ALL skin types and conditions, and still effectively removes heavy makeup and SPF. It's a no-fail option, whether skin is acneic, sensitized post-procedure, and anything in-between. My skin is acneic, congestion and inflammation-prone, and sensitive, PLUS I'm a fan of retinol (which, we know can make a situation worse before it gets better!) This is the only cleanser that I can safely and confidently use regardless of what is happening with my face. It also doesn't lather, which is my preference for a facial cleanser. Don't have time to be rinsing no bubbles!"
What I believe to be a life long staple! What retinol does is stimulate exfoliation of the skin. With my rotating roster of skin concerns, this is one of the few products that can be used consistently, although you may have to build a tolerance with time, I apply it directly onto my skin, and leave it on over night. Start low with the 0.1 and build from there. This is a must have for all skin routines and has withstood the test of time with dermatologists and aestheticians alike.
SkinCeuticals Redness Neutralizer
As someone who suffers from redness and dry patches, this product is my holy grail. It does an amazing job at keeping my skin tone even, reducing inflammation and redness, especially after treatments, It moisturizes really well and gives my skin a natural glow. I have sensitive skin and it can be prone to breakouts when trying new products, but I have not experienced any skin issues with this product. I apply this in the morning before my sunscreen and it keeps my skin even all day without any greasiness!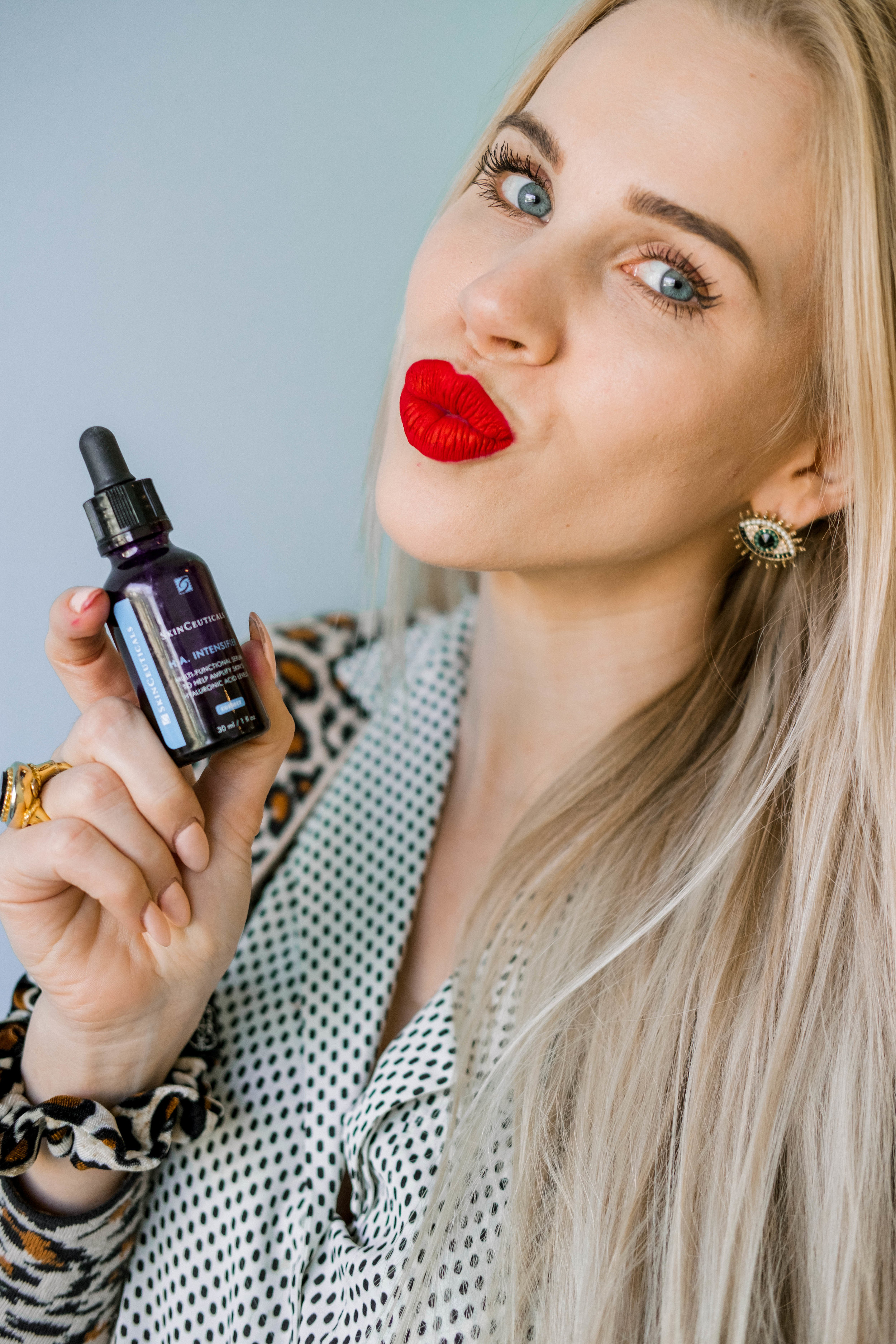 SkinCeuticals H.A. Intensifier
You've probably heard of hyaluronic acid before, because this is a staple at Frida Beauty Bar among all of our staff! The high concentration of it in SkinCeutical's H.A. Intensifier plumps up skin and revives dermal filler. A must have in dry Southern Alberta. This is a Frida fave for sure!
Prevent
CE FERULIC: A daytime vitamin C serum that delivers advanced environmental protection and improves the appearance of lines and wrinkles, loss of firmness, and brightens skin's complexion.
AOX EYE GEL: An eye serum in a lightweight gel that provides advanced environmental protection around the eyes while reducing the look of puffiness, visible signs of fatigue, and under eye circles
PHLORETIN CF: A daytime vitamin c antioxidant face serum that delivers advanced environmental protection and diminishes the appearance of fine lines and discoloration
Correct
RESERVATROL BE: A concentrated night treatment with pure antioxidant-rich resveratrol to reveal visible radiance and firmness
RETEXTURING ACTIVATOR: This oil-free serum is formulated to simultaneously exfoliate skin and replenish moisture for a smooth, radiant complexion
BLEMISH & AGE: An oil-free face serum that reduces the formation of adult acne, and improves visible signs of aging
Protect
PHYSICAL 50: Tinted sunscreen fluid with 100% mineral filters provides broad spectrum UVA/UVB protection, while promoting natural radiance and a more even skin tone.
SHEER 50: A weightless 100% mineral sunscreen fluid that provides broad spectrum protection with a transparent finish
MATTE 50: UVA/UVB protection oil-absorbing base with a matte finish